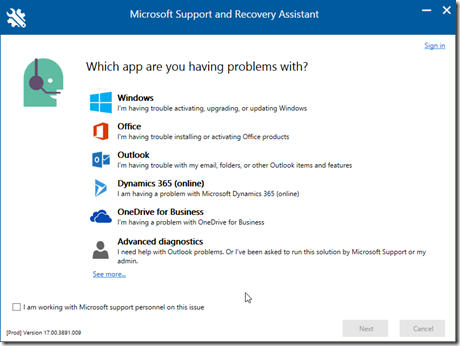 I had issues adding a specific Office365 email account to my Outlook 2016 desktop application on one of my machines for a while now. Giving me the "something went wrong and outlook couldn't set up your account. please try again. if the problem continues, contact your email administrator." message and no options to add information manually in Outlook 2016.
So with the new year I decided to give it another go and see if I could solve it looking at it with a fresh mindset.
I'm not the only one given the posts like this one:
https://community.spiceworks.com/topic/2026831-unable-to-setup-office-365-mail-account-on-outlook-2016
The post above however didn't provide me with a solution so I searched a little bit further until I ran into this little gem:
https://support.office.com/en-us/article/about-the-microsoft-support-and-recovery-assistant-e90bb691-c2a7-4697-a94f-88836856c72f
It runs you through a series of questions and analyses the settings (for Outlook 2016 and Office365 in this case) to find that it had issues getting the mail properties, fixed it and created a new Outlook profile that actually worked!
I wanted to get the email account in the existing profile however, but that wasn't an issue either anymore … Just went over the process of adding the new email account like I used to and now it magically added the account without issues at all. Apparently it also changed something on my Outlook installation but who cares. I finally got my long failing email account to work in 2020 … how is that for a Happy 2020