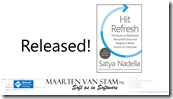 A while ago I preordered Hit Refresh on Amazon:
It's the book by the 'new' Microsoft CEO. I'm interested to read it and see how it compares to the books by Bill Gates. My guess is that it is a complete different type of book, but we'll see. I downloaded it on my (Android) phone so I can dive in whenever I have a minute to spare

.
BTW, it appears all Microsoft employees received a signed copy … maybe we can get him to sign a couple of them at the next MVP Summit!