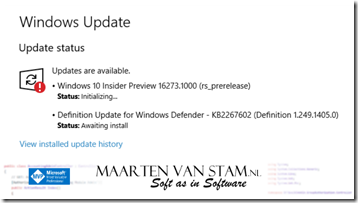 A little while ago I mentioned there was no jumping on the Redstone 4 (Windows vNext after Windows 10 Fall Creators Update) train anymore if you are not already on that train.
Today there was an update for the ones who -are- riding the RS4 train: Windows 10 Insider Preview 16273.1000 (rs_prerelease).
Notice the tagged "rs_prerelease", this indicates you are on the Redstone 4 track. The 'commons' on Windows 10 Insider Preview will have the tag "rs3_release", also released today.

No clues to what has been fixed in these releases, it has been about 3 weeks since the last update due to some bugs found so I'll just assume that it is just more stabilizing Redstone 3 stuff.
Go get it if you are an Insider! 
Update: Here are the change notes for this build at the Microsoft Windows Blog https://blogs.windows.com/windowsexperience/2017/08/23/announcing-windows-10-insider-preview-build-16273-pc