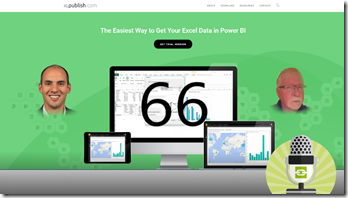 Today we had our 66th SDN Cast, our 100th published video. Today with Mr. Moffat and Mr. Hoppe showing their new Excel tool XlPublish an Add-In for Microsoft Excel to better integrate Excel data and Microsoft's Power BI's Dashboarding product and make it available to every Excel user everywhere.
Usually the SDN Cast in Dutch but today the webcast is in English as Dick Moffat is from the other half of the globe from Canada. My connection was a bit crappy this time, probably my family was busy streaming Netflix eating all the bandwidth instead of watching daddy in his webcast

.
XlPublish is a very interesting product, making your work as Power BI person a lot easier if you have your data in Excel or even in external data that you can expose through Excel!
Where can you find our 66th episode of our SDN Cast?
https://youtu.be/KE6bhvdLLnI
Did you subscribe our Dutch SDN Cast channel already?
Subscribe your YouTube channel if you don't want to miss a single broadcast. Usually we will broadcast on Thursday evenings at 8 PM but there can be a change of plans where we need to move to another time or day. So to be sure Subscribe to our channel on YouTube or go to http://www.sdncast.nl to see when the next episode is due.
Other news
Announcing TypeScript 2.5
https://blogs.msdn.microsoft.com/typescript/2017/08/31/announcing-typescript-2-5/
Events
Events this Week
Google Developer Days Europe – September 5-6, Krakow, Poland
https://developers.google.com/events/gdd-europe/
Wazug – September 7 2017, Hilversum
https://www.wazug.nl/Event/Details/2059
Upcoming Events
Microsoft Edge Web Summit 2017 – September 13, Online
https://summit.microsoftedge.com/
MixUG – Development Event – 13 September, Gouda
https://www.eventbrite.nl/e/tickets-mixug-development-evenement-34890959800
Xamarin Dev Days – 16 September – Amsterdam
https://ti.to/xamarin/dev-days-amsterdam-2017
DevIntersection Europe, September 18-20 – Stockholm
https://www.devintersectioneurope.com/#!
.NET Conf – 19-21 September
http://www.dotnetconf.net/
Building high performance web applications with Preact – September 21th- .NET Zuid – Rotterdam
http://www.dotnetzuid.nl/Meeting/20/building-high-performance-web-applications-with-preact
Microsoft Envision – September 25-27 – Orlando
https://www.microsoft.com/en-us/envision/default.aspx
Ignite 2017 – September 25-29 – Orlando
https://ignite.microsoft.com
https://myignite.microsoft.com/sessions
Hybrid IT Event – September 26 – Maarssen, NL
http://www.fujitsu.com/nl/microsites/hybrid-it/event/index.html
4DotNet Events – Xamarin Event – 28 September, Nieuwegein
https://events.4dotnet.nl/xamarin-event
MixUG – Eindgebruikers Evenement
https://www.eventbrite.nl/e/tickets-mixug-eindgebruikers-evenement-34890983872
SDN Event 3 – October 6, Zeist, NL
https://www.sdn.nl/EVENTS/6-oktober-2017
TechDays October 12-13, 2017 RAI Amsterdam
http://www.techdays.nl/
https://techdays.msnlevents.net/content/eventselection.aspx?eventid=26152
SharePoint Saturday Belgium 2017, October 21, Brussels BE
http://www.spsevents.org/city/brussels/brussels2017
SharePoint Unite – October 24-26, 2017, Haarlem
https://sharepointunite.com/
Dev Intersection, October 30- November 2, Las Vegas
https://www.devintersection.com/#!/
Firebase Dev Summit – Amsterdam – October 31
https://firebase.google.com/dev-summit-17/
Web Summit – 6-9 November 2017, Lisbon, Portugal
https://websummit.com/
Visual Studio Live! November 12-17 2017 Orlando, FL
https://live360events.com/events/orlando-2017/vslive.aspx
As usual we are always looking for presenters for our own events and Meetup's so if you want to share something about hot technologies or just about something you implemented at work or in an App that could be interesting to our audience let us know so we can schedule you for one or our next SDN events or Dutch .NET Group Meetups.
This off course also goes for if you want to write a great article for us to publish in our SDN Magazines or at our SDN Website. The downside of publishing a magazine article is that there can be sometime between writing the article and publishing the magazine. So, if it is time critical sometimes the best option is to publish it on the www.sdn.nl website to get more speedy attention to the article.
As you see, options enough to address your audience with top notch information. You can even, if you like, be our guest in our SDN Cast shows to discuss the projects you are working on or other topics you master. We will instruct you how to connect with us and what it is you need to join the show.
Hopefully we will see you at our weekly web cast, for the schedule go to www.sdncast.nl for next week's announcement to find out the day and time of our next broadcast or go to www.sdncast.nl/youtube to watch old episodes and videos that we recorded at our events. Don't forget to subscribe our YouTube channel www.sdncast.nl/subscribe or go directly to YouTube not to miss any of our shows!