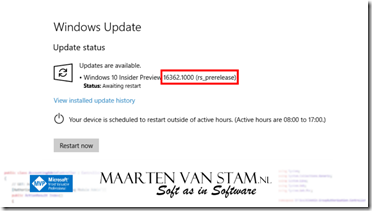 Just when I posted the blog about Insider Preview Build 16288 yesterday I received Insider Preview Build 16362 on my Skip Ahead machine and had to reboot for a relatively long boot process.
As you know there are two flights these days, one Redstone 3 (Fall Creators Update) flight and one Redstone 4 (Skip Ahead) flight. The Redstone 3 flight is now almost ready and on Build 16288 but Redstone 4 is just starting and as of today on Build 16362:
https://blogs.windows.com/windowsexperience/2017/09/13/announcing-windows-10-insider-preview-build-16362-pc-skip-ahead
As they mention: "Because we are just beginning development for RS4, Insiders shouldn't expect to see a lot of big changes or new features just yet. Our focus remains getting the Windows 10 Fall Creators Update ready for release!"
There are some improvements, like the improved boot experience where the boot process is able to use your settings to show information according to your personal settings (this is an Opt-out option, so you can disable it) and Narrator improvements among a long list of smaller fixes.
If you don't have Skip Ahead, you still need to wait until they open up the program again (to be expected just after the Fall Creators Update is released). All others … enjoy your new Build!