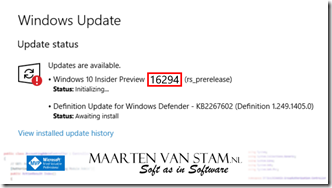 Just a quick update .. I personally missed it because I'm on the Skip Ahead flight and this one is only available on the Fast Ring, not the Slow Ring or the Skip Ahead Ring:
https://blogs.windows.com/windowsexperience/2017/09/20/announcing-windows-10-insider-preview-build-16294-pc
For us … the Dutch people, it was an important build though because they fixed an issue specifically with Dutch builds:
"We fixed an issue on Dutch builds where explorer could go into a crash loop if an app-requested downloads notification popped up from OneDrive."
Still not much more … only a couple of bug fixes. There is however an IMPORTANT NOTE added at September 21st:
"You will be unable to install *new*/additional language packs on this build. Pre-existing language packs (language packs you've installed previously) will carry over and work just fine."
We are getting closer and closer to the final release. Hardly a prediction anymore.
I haven't heard anything about it, but would Ignite be an opportunity for release? Sadly, I won't be there to watch it live … but the keynote is streamed live so I'll be at the monitor Monday afternoon.