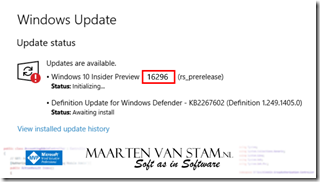 Darn …. these Windows Insiders Program dudes go faster than light!
I just blogged about the 16294 build that I personally missed. Posted the blog, checked the Windows Insiders Program and guess what? Another build!
Yes …. you heard it right … another build …
Fast ring only, Redstone 3 … not the Skip Ahead, Redstone 4.
The important notice still stands from the previous (16294) build:
IMPORTANT NOTE: You will be unable to install *new*/additional language packs on this build. Pre-existing language packs (language packs you've installed previously) will carry over and work just fine.
So let's see if there is another build while I'm publishing this blog update

…